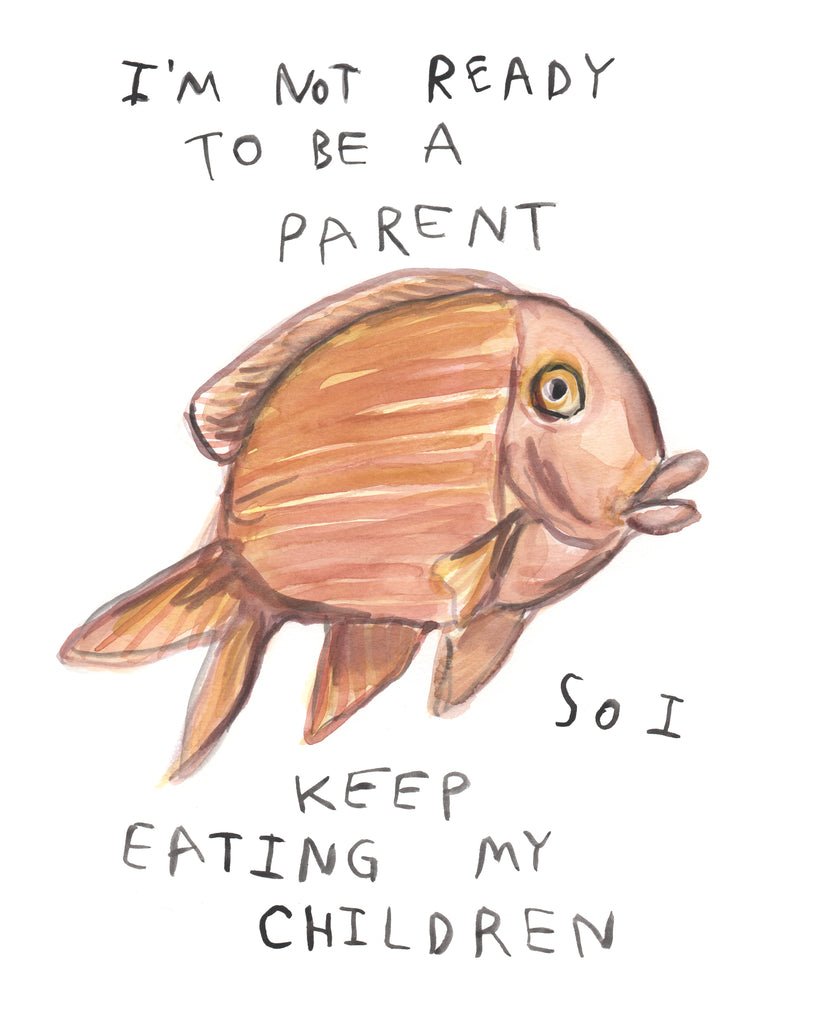 You know, part of me relates to this Saturn-esque little fish. No, no, not the child eating part. I promise I don't eat children. You don't have to veer your strollers away from me when you see me coming for fear that I'll take a nibble out of little Timmy. I cannot stress enough how many children I have definitely not eaten. Well, that is to say, not that I know of. I mean I could have unwittingly eaten a child somewhere along the way, any of us could have. Sure it's unlikely, but you never know. Some greasy diner might be boiling babies into their baked beans and we'd be none the wiser. Ok, I've gotten off track here. All I meant is that I, too, am in no way prepared to be a parent. As evidenced by basically everything I've just written.
Can you believe that I'm just going to leave that paragraph as the "description" for this artwork? 

Painted on 9"x12" watercolour paper. Since these paintings are loose and scrappy, they may have a smudge or two, but their imperfection is a big part of their charm.

Signed on the back. Add a note if you want it signed on the front as well.

Framing:
You don't need to frame it, but here are some tips if you wanna.

You can find 9"x12" frames online and in home decor stores. The selection can be limited, so sometimes it's easier to use a 12"x16" frame (a standard IKEA size, super easy to find), and then use a mat to make the painting to fit.
You can buy a plain white mat from me to go with your painting, buy them elsewhere online, or get your local frame shop to cut you one.

You can also get a custom frame made at any frame shop.