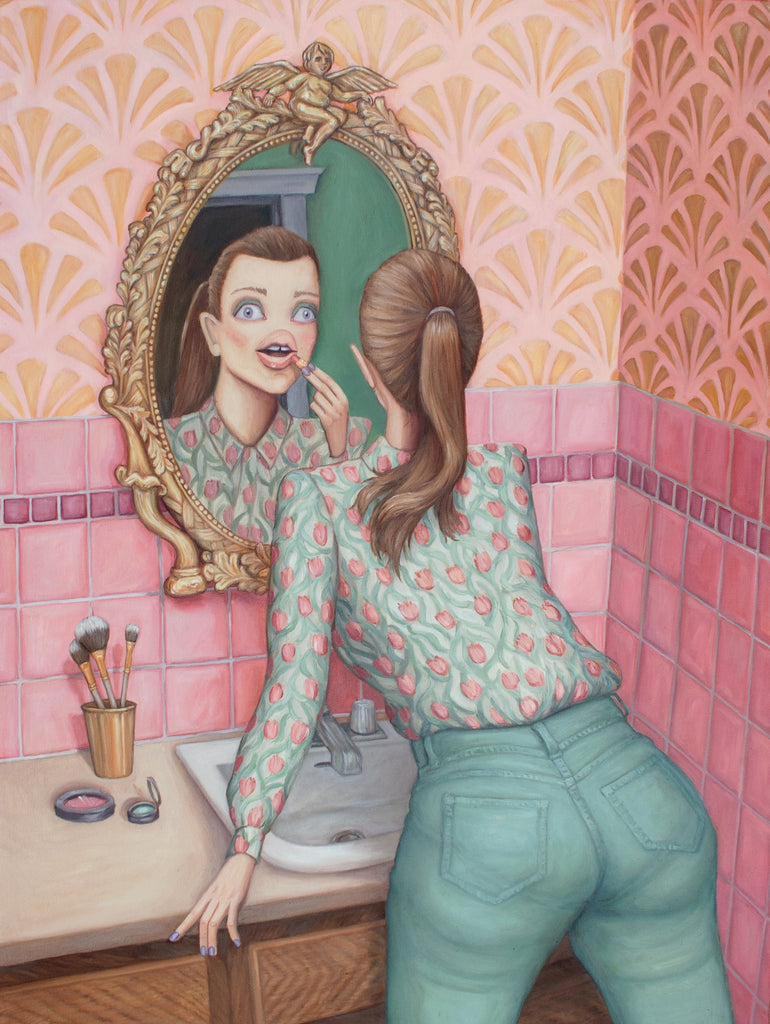 This started off as a bunch of sketches of women looking at themselves in mirrors. That made me think about all the Venus paintings where cupid holds up her mirror. So I filled this image full of art historical references, but don't worry if you want to enjoy this painting without the nerdery.

The bathroom is a clashing mess of decades and styles. For me that says something about women being stuck between disparate eras of patriarchal moralizing, but it's also just lush and tacky.
I had John Berger in mind a lot during this painting. I love this quote:
"The mirror was often used as a symbol of the vanity of woman. The moralizing, however, was mostly hypocritical. You painted a naked woman because you enjoyed looking at her, put a mirror in her hand and you called the painting "Vanity," thus morally condemning the woman whose nakedness you had depicted for you own pleasure."
The woman in this painting sticks her rump out at the viewer, but the panty line is her way of reclaiming her ass from the male gaze.
I could ramble about this painting for hours (notice how the world reflected back at her doesn't necessarily resemble the world she inhabits? Or how the wonky perspective makes everything a little unsettling and off kilter?) but mostly I just hope you like it and see something in it yourself.
Limited edition of 20 prints.
11"x14" and printed on beautiful heavyweight Matte Epson paper using archival pigment-based inks. That means it's a high quality art print that will not fade over the years.